Spaghetti Bridge Testing
Well on Tuesday we had our spaghetti bridge testing.  Everyone was able to finish their bridges in time though some did not quite meet the original criteria set.  There were many different designs.  Some very attractive and carefully planned while others were not so attractive but held out in the testing well.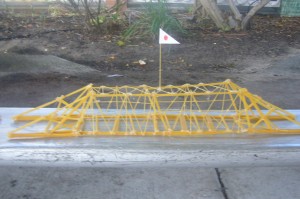 Josh and Bao's bridge was planned and designed very effectively whilst Jake (Room 10) and Jaymon spent a lot of time mathematically planning to also create an excellent bridge.  All in all the students from Room 10 and 13 built some pretty amazing bridges that they should be very proud of.   During the testing students took notes and kept track of the weight that each bridge could take.  From their notes they began to put together a science report back in class.